Hi all, sorry about the break in posting, I've been distracted by a number of things happening here. Disruption at the house with work being carried out on our bathroom, ongoing puppy training, weather being great (which isn't usual) and getting out into the great  outdoors and things being full on at work. Holiday's are lined up for a well-earned rest – apart from some (hand) sewing that I will be taking with me!
But I haven't been idle, I have a number of projects on the go and will post the finished articles soon. Don't you find that  you have so many things you want to make that quite often you don't know where to begin or what to do next?  I do have a wish list of things I want to do this year, chief among them is a skirt suit and a Donegal Tweed tailored jacket, I have been accumulating all the components and sourcing buttons etc., so itching to get started, though probably be Autumn before I do.
For now though I have a skirt, blouse, Sorbetto tops on the go – filling out some gaps in my wardrobe.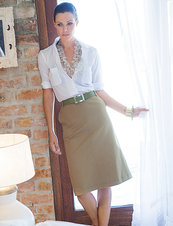 Burdastlye skirt and blouse
   skirt under construction
blouse cut and ready to go.